History of Maurice Crijns
How did it start: an introduction by Maurice Crijns
A Sad Story
This is the personal story of my wife and myself: A terrible family tragedy happened to us in 1984 and my wife became totally apathetic, the living dead. I decided to book us a travel abroad. A poster of a Nemrud statue head hung on the wall of the travel agency. My wife suddenly said "I made that head". After months this was the first sign of life. I was so happy that I asked the travel agency to book a trip to that statue. They then asked me where it was, but I didn't know. They were the travel agency, not me. Finally the agency found out and booked the trip.
An Amazing Story
After travelling long we arrived at the top of Mt.Nemrud, where my wife marveled at the head of Antiochos. We had a small tourist guide stating that it was the head of Apollo (see picture). She disagreed strongly. She claimed it was the head of King Antiochos, not Apollo.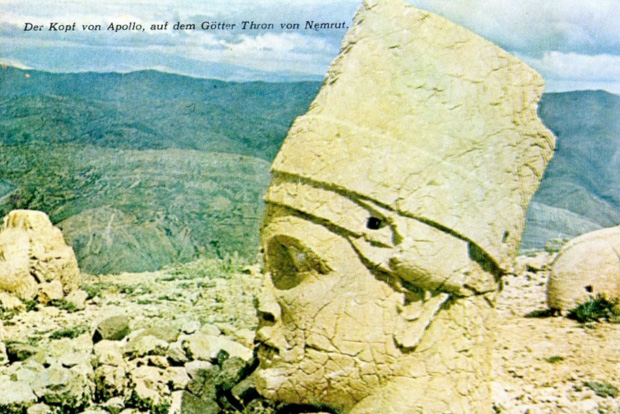 Head of Apollo, tourist guide Kommagene 11,5 x 17 cm page 15, by Dr. Şadan Gökovalı, Tic.Matbaacilik A.Ş, 1984.
I had hired a guide, the teacher, Tahsin Firat. On the way back he proposed to visit the archaeologist, Professor Dörner. We met him in Karadut. It turned out that he was not fond of tourists and reluctantly let us in. My wife told her story and described how the monument had looked like in those ancient times. Also, my wife told him the staircase at the East-Terrace was incorrectly restored. The mood of the conversation changed. Dörner asked her how she could possibly know, because this was his discovery and not yet published. He asked for more details. He became very interested. At the end of our meeting, Professor Dörner asked me to become his project manager next year. I replied that I was honoured, but refused. The mountain was his job. I was too relieved to see my wife recovered more or less. I just wanted to go home and have a normal life.
My Story
Indeed, back home life became normal again. My wife lost her interest in the Nemrud, but my interest started. In the months thereafter Professor Dörner and I discussed many subjects. I reconsidered my previous refusal to work for him. I wrote to him that I accepted to be his project manager during the summer months. Dörner informed me that the start of the campaign was delayed till June/July (see letter 30 12 1984 and letter 24 1 1985). Next, Dörner wrote me that due to his illness and lack of funding the campaign for 1985 was cancelled completely (see letter 3 6 1985). Unfortunately, the campaign of 1984 when we met him, turned out to be his last campaign. He died on the 10th of March 1992. During the short time I learned to know Professor Dörner as a great scholar.
The Tourist Guide Story
In 1987 I wrote a tourist guide "Kommagene: the forgotten Kingdom". I included the information provided for by my wife in italics, to make a clear distinction between fiction-fantasy and non-fiction based on historical facts.
The Adiyaman Police Story
In 1987 I was in Kȃhta with my wife and son, when the police of Adiyaman picked me up for questioning. In a nutshell these were the accusations:
1. You are an Armenian spy. As proof a map was shown in the tourist guide depicting the word "Armenia" (see tourist guide). Answer: This is a map of 2000 years ago displaying ancient kingdoms like Pontus, Pergamum and indeed Armenia. Everybody can see a similar map in the Museum of Ankara.
2. You are a spy making videos of military facilities. Answer: Indeed I made videos, but only from archeological sites like Arsameia and Samosata. My videos were taken and checked as well as my hotel room and luggage; nothing illegal was recorded or found.
3. You are making videos for commercial use without permission from the Ministry of Culture. Answer: I am here as a tourist making some snapshots of Kommagenian sites. I do not need any permission.
Summary: A document nr. 1987/249 was produced confirming that I was innocent. In 1998 I received a copy of said document (see document).
The Nemrud Story
During many visits I had seen the monument deteriorating due to weathering and to misconduct by visitors. In 1998 I decided not to stand back, but to do something. So, I established the International Nemrud Foundation, INF. It is my pleasure to see how the INF has grown into a mature NGO capable of managing a highly complicated project as the Nemrud Dag Project.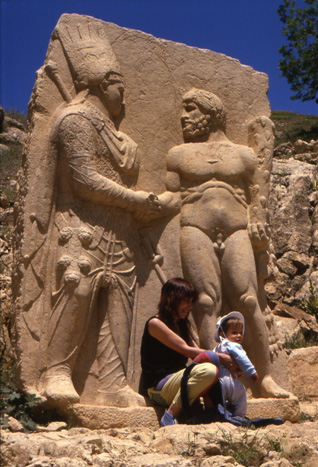 1987: my wife and my two years old son at Arsameia