Apollo / Mithras / Helios / Hermes
…. so I chose to make this holy place a common consecrated seat of all the gods; so that not only the heroic company of my ancestors, whom you behold before you, might be set up here by my pious devotion, but also that the divine representation of the manifest deities might be consecrated on the holy hill and that his place might likewise not be lacking in witness to my piety.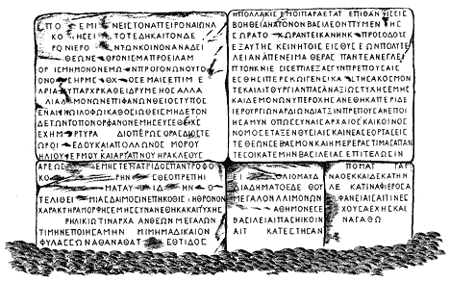 Inscription II : Apollo/Mithras/Helios/Hermes
Therefore, as you see, I have set up these divine images of Zeus-Oromasdes and of Apollo-Mithras-Helios-Hermes and of Artagnes-Herakles-Ares, and also of my all-nourishing homeland Kommagene; and from one and the same quarry, throned likewise among the deities who hear our prayers, I have consecrated the features of my own form, and have caused the ancient honor of great deities to become the coeval of a new Tyche. Since I thereby, in an upright way, imitated the example of the divine Providence, which as a benevolent helper has so often been seen standing by my side in the struggles of my reign.
Adequate property in land and an inalienable income therefrom have I set aside for the ample provision of sacrifices; an unceasing cult and chosen priests arrayed in such vestments as are proper to the race of the Persians have I inaugurated, and I have dedicated the whole array and cult in a manner worthy of my fortune and the majesty of the gods.
I have decreed the appropriate laws to govern the sacred observances thus established for everlasting, so that all the inhabitants of my realm may offer both the ancient sacrifices, required by age-old common custom, and also new festivals in honor of the gods and in my honor. The birthday of my natural body, the sixteenth of Audnaios, and the tenth of Loos, the day of my accession to the throne, I have consecrated to the manifestation of the great deities, who were my guides in a prosperous beginning and have been the source of universal blessing for my whole kingdom.